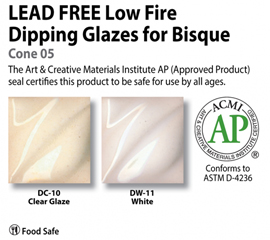 Amaco Clear Dipping Glaze
GADC-10 Clear Glaze - LEAD FREE
Cone 05
GADC-10 Clear Glaze is LEAD FREE, formulated especially for dipping.
Dip the Cone 04 bisque fired piece into the glaze, lift it out and turn it over, allowing the excess glaze to pour out.
These glazes will stop running as soon as the piece is lifted out of the glaze bucket.
Application is uniform and there is no waiting for it to drip or dry.
Clear is ideal to use over all Amaco underglaze.
Fire to mature Cone 05.
Note: Over-watering will cause settling.
Amaco Discount
20% Off 12 or more.
10% Off 6 or more.
Mix and match, any combination
Discount is applied after check-out
3/23