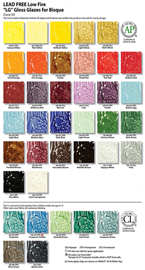 Amaco Gloss Glazes (LG)
Cone 05. AMACO Gloss Glazes fire to a smooth, glossy finish at a witness Cone 05 (1915°F, 1046°C). Always slow fire lead free glazes for best results. Amaco Gloss Glazes flow slightly during firing to a high gloss finish, while correcting most application imperfections. Good results can be obtained on all AMACO ceramic clay or slip.

AMACO® Gloss Glazes are formulated for brushing application. They may also be adjusted to work in pouring, dipping, and sponging applications. They are available in liquid (pint or gallon) or one pound dry.

LG-10 is a clear, all-over covering glaze that produces a smooth, high gloss finish at a mature witness Cone 06 (1911°F, 1044°C). Two coats of LG-10 is usually sufficient to achieve a smooth glossy finish.

Clear glaze can be used over the AMACO® LUG series, Velvet, Velvet-1-Strokes, Designer Velvet, and over the GDC Majolica Gloss Decorating Colors. When gloss decorating colors are used over bisque, they need a clear glaze over them which is applied at the same time and fired once. LG-11 Opaque White can be used for the Majolica technique.

AP Reds and Oranges: LG-57 Intense Red, LG-58 Brilliant Red, LG-59 Hot Red, LG-63 Brilliant Yellow, LG-67 Fire Orange, and LG-68 Vivid Orange are a new group of bright glazes that are lead free and dinnerware safe. They do not need any special treatment for achieving good results. They are easy to use. Just apply three coats over a Cone 04 bisque and fire to Cone 05. With this group of glazes you do not have disappointing results if you fired slow or fast, and it does not matter what you fire next to it. You just have to make sure to fire to a witness Cone 05. These glazes are perfect for the classroom, especially where application by young children may be uneven.
Amaco Discount
20% Off 12 or more.
10% Off 6 or more.
Mix and match, any combination
Discount is applied after check-out
Colors Discontinued by Amaco are available while current supplies last.
40% Off price shown. No backorders. FINAL SALE.
1/23