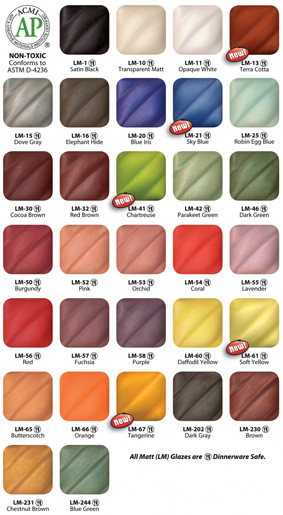 Amaco Matt Glazes (LM)
Cone 05
Amaco® GALM Matt Glazes Series is one of the most pleasing for decorative art pottery and tile.  These glazes are suitable for glazing pottery or sculpture clay. 
---
Because Amaco® GALM Matt Glazes are nonflowing, they are adaptable for some unique types of decoration.

 

Amaco® GALM Matt Glazes are supplied in ready-to-use liquid form. Brushing, pouring, dipping, or spraying are all suitable methods of application on bisque or greenware.

 

Firing range for these glazes is Cone 06 (1830°F, 999°C) to Cone 02 (2048°F, 1120°C) and recommended firing temperature is Cone 05 (1915°F, 1046°C). These glazes should be applied on a mature 06 fired bisque.

 

Slow firing is recommended.
---
 These Amaco Glazes are AP Non-Toxic. 
Discontinued LM Series available while current supply lasts.
No backorders.

Discounted price shown.
LM 10 and LM11 are NOT discontinued.
20% Off 12 or more.
10% Off 6 or more.
Mix and match, any combination
Discount is applied after check-out
11/22