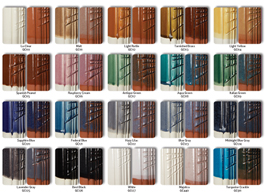 Continental Clay Low Fire Transparent Glazes - Dry
Cone 06-05
20 enticing colors formulated on a clear base glaze.
For best results, bisque fire to cone 04, glaze fire to cone 05.

Transparent series colors should be mixed with equal parts water to glaze by weight. (One pound of glaze to one pint of water).

Glazes may be single or double dipped or brushed on. Because they are transparent, the colors are influenced by the underlying clay body color, (red or white) and glaze thickness.

Colors will pool beautifully when thick.

May be used over and under each other for a variety of effects.

Added dimension may be achieved by applying over colored underglazes and slips.

Our Majolica glaze (GC440) is an off-white, opaque, soft glaze primarily intended for use over Lo-Fire Red clay.
Continental Clay Cone 06-05 Mixing Instructions.pdf