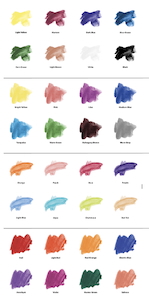 Amaco Semi-Moist Underglaze Decorating Pan Sets (SMUGS)
Cone 06-10 (see below for specific color cone temps)
LEAD FREE
Amaco® Semi-Moist Underglaze Decorating Colors are suitable for many types of ceramic painting.

They are especially good for water color effects and painting of fine detail.

This series contains 24 colors available in convenient semi-moist (watercolor) pan form.

Colors are concentrated, intense, and opaque.

Additional shades and tints are made by intermixing.

Colors may be brushed on either bisque or greenware.

A brush dipped in water lifts the color for decorating.

Further thinning of the water-soluble colors prepares them for transparent water color effects by brushing.

All sets are supplied in hinged-lid plastic boxes.

Peach, maroon, pink, rose and yellow fire to

cone 6

.

All others to

cone 10

.

These Amaco Underglazes are all AP Non-Toxic.
Cara Moczygemba, Indianapolis, IN, used Semi-Moist Underglaze Decorating colors on this tile.

9/23