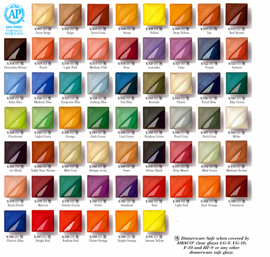 Amaco Velvet Underglaze
Cone 04-6
All colors in the Velvet Series are AP NON-TOXIC.

AMACO Velvets semi-translucent underglazes offer two finish possibilities. When left unglazed, they have the appearance of velour or velvet. They will intensify in color when covered with a Clear Transparent Gloss glaze.

Velvets 380-384 have a unique formula that makes them very versatile. They can be used in detailed design work as a Cone 05/06 underglaze, or they can be fired up to Cone 6 and maintain their intensity and brightness.

All the Velvets are vibrant colors and can be used for an all-over coverage similar to an opaque underglaze. They fire true to color as applied from the jar and may be intermixed to create a palette of hundreds of colors. The colors may be brushed (1) on greenware, which is to be bisque fired before applying a covering glaze, or (2) on a mature Cone 04 (1971 F, 1077 C) bisque, then a covering glaze applied. For opaque coverage by brushing, the consistency of the color in the jar is correct. Velvets tolerate a wide firing range, with recommended firing temperature being that of the clay used.

NOTE: V-317 Medium Pink will change color and blister at Cone 5. V-303 Terra Cotta will fade away when glazed over. If you need to use this color and glaze it, then substitute it with V-366 Teddy Bear Brown.

Velvets were developed to be used without a glaze cover. V-327 will appear Green Turquoise under LG-9 and Blue Turquoise under LG-10.

AMACO Velvet Underglazes have only been tested and approved as dinnerware safe when applied and fired under LG-10 Clear Glaze. They should not be used on surfaces that come in contact with food or drink. If left unglazed, AMACO clear glazes LG-9, LG-10, F-10, and HF-9 or any other dinnerware safe glaze are recommended to be used over AMACO Velvets to make them dinnerware safe.

For best results with V-317, 318, 321, 322, 325, 326, 371, and 375, apply only two coats of LG-10 Clear Glaze.

Tableware producers must have all finished ware tested and approved as safe for dinnerware through a certified laboratory due to possible variations in firing temperature and possible contamination.

Discontinued Amaco Velvets are available ony while current supplies last. No backorders.
---

These Amaco Underglazes are all AP Non-Toxic.
Amaco Discount
20% Off 12 or more.
10% Off 6 or more.
Mix and match, any combination
Discount is applied after check-out