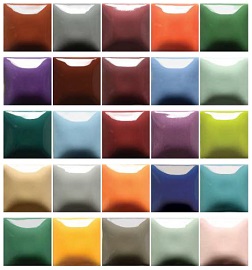 Mayco Foundations - Opaque FN 23-47
Foundations Cone 06/05 glazes are available in a broad assortment of colors, opacities and textures. They easily serve as the basic "foundation" glaze for any ceramic studio - be that in a school, home or retail studio. Stock numbers that contain the prefix "FN-0XX" are opaque glazes, those with the prefix "FN-2XX" are Sheer (transparent and semi transparent glazes), while those that have the prefix "FN-3XX are Matte glaze.
Non-toxic, non-hazardous and food safe
Self Leveling Formula - glaze glides smoothly on bisque; no brush strokes will appear in the fired finish
Steadfast Application - Foundations will not dissolve or "pick up" previous coats of glaze
Stable, Non Moving Base - perfect for decorating upon, as with Majolica techniques
Intermixable - new shades can be created by mixing Foundation glazes with each other
Dries Quickly - speeds up your ability to handle or perform additional decorating
High Gloss Finish - does not need to be clear glazed.
Discontinued Mayco Glazes are available only while current stock is available. 40% off discounted price shown. No Backorders.
 

Mayco Discount

20% Off 12 or more.

10% Off 6 or more.

Mix and match, same size

Discount is applied after check-out

(offer may not be combined with other discounts)

2/23