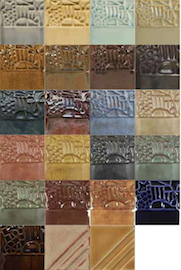 Mayco Elements AP Non-Toxic 101-135


AP - Certified Non-Toxic.

Rich & Elegant. Inspired by aspects of nature, Elements™ and Elements™ Chunkies produce lush, organic, and earthy hues.
This high performance art glaze gives the artist a wide variety of options in one product as application, firing temperature and shape will influence the outcome.

Elements ™ and Element ™ Chunkies were designed to simulate the aesthetic, movement and interest of mid-range and high fire glazes in a cone 06/05 oxidation kiln firing.
Mayco Discount
20% Off 12 or more.
10% Off 6 or more.
Mix and match, same size
Discount is applied after check-out
(offer may not be combined with other discounts)

2/23