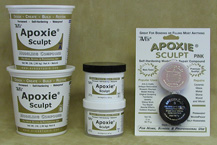 Apoxie Sculpt
Apoxie Sculpt is an amazing air drying, no firing needed, modeling material available in 12 colors.
It air dries to a superhard, waterproof, flat finish that requires no additional treatment and has no shrinkage.

It can be painted, sealed with acrylic, or luster enhanced and is perfect for repairs, craft and hobby projects, miniatures, jewelry, replication, and model making.

Apoxie Sculpt is a two-part product with a 2 hour work time.

It is easily cleaned up with water and cures hard overnight.

To enhance metal effect of cured Apoxie Sculpt, rub on graphite and buff to achieve a luster.
9/23