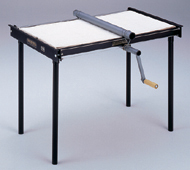 Brent SRC Slab Roller
The SRC is a portable slab roller designed for small projects (not for production or schools). The SRC can produce slabs 21" wide and 40" long, in thicknesses from 1/4" to 1".
Available as either a table model or with the easy-to-assemble screw-in-leg set option (shown in photo).

The legs are constructed of heavy wall steel pipe to provide a sturdy work surface.

The table with legs is 36" high, a convenient height for working with slabs.

The simplicity of the patented cable drive system, with its opposing rollers, allows use of a light frame without bed flex.

All solid steel construction, a solid hardwood handle, and heavy cotton belting.

Comes with six masonite shims: four 1/4" plain, one 1/4" with canvas, and one 1/8" plain.

One inch thick particle board bed also included.

Replacement Cable (set of 4) length is 61" with 4" of 1/4" threaded rod at each end, complete instructions included.
Optional 22" Round Wheel available

with SRC Slab Roller purchase!*
*rebate direct from Amaco website (click here)
1/23 10