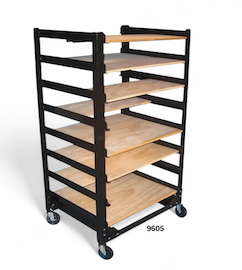 Debcor Ware Truck 9605
This truck is made of 12 gauge steel

Welded construction on 4" casters, provides easy mobility of your ware.

A variety of uses; excellent for cooling ware after firing or moving from place to place.

Can also be used for greenware drying.

Furnished with 12 plywood half shelves for maximum flexibility, each measuring 12" x 28" x 1/2". 

Overall truck size is 24"w x 32"d x 54"h. 

Can ship UPS. 

Available with or without shelves.
Shipping weight with shelves, 110 lbs.
Shipping weight without shelves, 66 lbs.
FOB South Holland, IL 60473
4/22 10