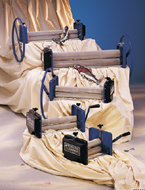 North Star Super Star Slab Roller
North Star Super Rollers include:
Roller
Wagon Wheel Handle
Canvas


North Star slab rollers are sturdy, professional quality slab rollers designed to meet the needs of eager professionals, elementary school teachers, and everyone in between. The independent rollers can produce slabs of any length. Clay is sandwiched between canvas strips, passed through rollers, and retrieved on the opposite side. The knurled rollers grip canvas and pull slabs through easily. Wet slabs can be moved on the bottom canvas, or a drive board can be used. The two-roll system greatly reduces warping in the fire. These are the most versatile rollers available.
Infinite thickness adjustments from 0 to 2 1/2" can be achieved without shims. The rollers easily accept texturing materials such as flowers, bark, burlap, or cloth. In addition, each slab roller can make tapered slabs and accept press molds. The roll opening and handle can be locked in place. Steel and aluminum alloy construction with machine-cut nylon gearing. Rollers are furnished, complete with canvas and all mounting hardware, shipped via UPS, and come with a full ten-year warranty. Custom machines in a variety of other sizes and/or with smooth rollers are also available upon request.
5/23 10