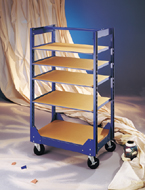 North Star Shelf Truck and Versa Cab
The only fully adjustable heavy-duty ware truck available in the United States.
Shelves supported at each end by brackets which adjust in seconds to any desired level.

Shelves slide in and out.

Solid steel frame.

Shelf Truck uses 24" x 36" MDO finished plywood shelves, 1/2" thick (may be user-supplied for greater freight savings)

Full 6" diameter industrial swivel casters (two with

parking brakes) are largest on any

U.S.

ware truck, rated at 1200 pounds, roll easily over contaminated floors.

Shelf Truck is supplied with 4 pairs of shelf brackets to give 5 shelf levels (first shelf goes directly on the frame).
Versa Cab is supplied with 3 pairs of shelf brackets to give 4 shelf levels (first shelf goes directly on the frame)

Can hold up to 22 shelves by adding additional brackets.

Excellent for storing and transporting clay and kiln furniture as well as ware in progress.

Ideal for use in studio, kiln room, art or ceramic classroom, print shop, maintenance department, etc.
Two year full warranty. Shipped partly assembled via UPS in two cartons of 48 lbs. ea.
Complete Ware Truck Package
Package includes Shelf Truck, 8 brackets and 5 wood shelves.
Shipped in 3 cartons, 150 lbs. total weight.
Complete Versa Cab Package
Package includes Shelf Truck, VersaCover, 6 shelf brackets, 3 wire shelves, 1 wood vent shelf.
Shipped in 3 cartons 145 lbs. total
FOB Cheney, WA 99004
5/23 10