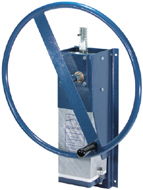 North Star Big Blue Clay Extruder
The North Star Big Blue Extruder is like no other. It is designed to be simple and safe.

This model features a 6 x 6 x 12 inch removable aluminum barrel that holds a full 25 pound pug of clay and can produce extrusions up to 5-1/2 x 5-1/2 inches without an expansion box.

T

here are no heavy bars or levers to injure head or feet, and no hydraulic pumps or air compressors. Instead, it is entirely hand driven.

The large wagon wheel handle drives a compound rack-and-pinion gear box which dramatically reduces the force needed to make an extrusion.

The Big Blue Extruder package is wall mount ready and includes one each: hollow round die, square, and hex die (all 5" OD with 1/4" walls), plus one 5" blank die.

Ships via UPS in two cartons.
FOB Cheney, WA 99004
5/23 10