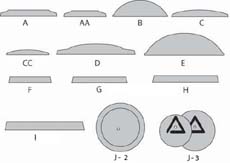 Pure & Simple Bat Molds - Quick Release
With these sturdy plastic molds you can cast flat or domed bats easily.
Ideal for throwing domed lids and bowls.

Simply place the finished plaster bat over the quick release wheelhead attachment, center clay and draw down evenly over the bat.

Pull up handles, knobs or foot-rings, then trim or shape outer edge.

Wait a short time and clay piece will release cleanly from bat.

Cuts production time dramatically!

It is also possible to produce custom shapes or other relief decoration by throwing or impressing clay within the basic mold form prior to casting plaster.

The possibilities are endless and the process is quick and simple. Use our K-60 pottery plaster with our spray release agent.

Please inquire for additional information and an informative brochure.
Quick Release (J): Save tons of time. Use the 2 part Quick Release system for fast and easy centering of your bat molds.

Molding Directions
Plaster Mixing Instructions
11/22