Shimpo RK Whisper FREE Shipping (5 or more offer)
FREE Shipping & FREE Adjustable Stool.
All School orders in the continental US consisting of 5 or more VL or RK Whispers will receive a FREE Adjustable Stool and FREE SHIPPING for each wheel purchased and shipped directly to your school. Offer date extended by manufacturer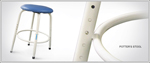 List Price $ 1600.00   5 or more $ 1280.00 each
You save $ 1280.00 Plus get $ 470.00 in FREE Shimpo stools!
1/23 20