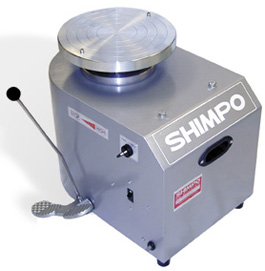 Shimpo RK Whisper
RK Series feature Shimpo's brushless Direct Drive no belt system.  It is an infinitely adjustable drive that multiplies torque automatically.  As speed is reduced at low speed throwing, torque is increased. 
The motor is electronically controlled and operated by a fixed foot pedal and hand lever.  Unique design allows the full rated power to be transmitted without gears or sensitive electronic control circuitry at speeds as low as 1 rpm for decorating.
The RK Whisper features clockwise or counterclockwise rotation with 12½ aluminum heads drilled to fit most bat systems.  Quiet, smooth, and powerful.
Steel body with built-in hand-holds is durable under all conditions
12" wheelhead and two-piece splash pan with built in table are included as standard features (SHSP20).
Speed Control: Fixed Foot Pedal w/ Hand Lever
Wheelhead: 12 inch light alloy casting, drilled for bat pins
Dimensions: 20 x 21 x 20"
Shipping weight 135 lbs.
Brushless DC Motor  1/2 hp, 400 W, AC 115V, 60 Hz

Electronic Controller  Maintains desired speed under all load conditions

Broad Speed Range  Allows optimum speed under all load conditions

Reversibility  Accommodates left and right hand users

Built-In Breaker  Motor is protected from overload

Wheelhead speed  0~250 rpm

Fixed foot pedal with removable hand lever.

Wheelhead Turns Freely at 0 RPM  Serves as a banding wheel

Centering: 100 lbs.

Two-Year Warranty , 2-year parts and labor

Optional accessory work tables available
List Price $ 1600.00  Now $ 1360.00
1/23 15