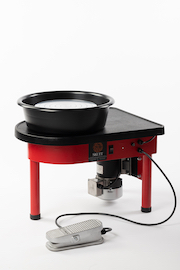 Skutt Thomas Stuart Prodigy
The newest Thomas Stuart wheel.
This model features the same heavy duty components found on all Thomas Stuart wheels, but it's built on a welded steel frame instead of the cast aluminum base the other wheels have.
The removable splash pan design can be removed easily by twisting and lifting the wheel head and removing the one-piece splash pan. 

This design is cleaner and easier to use than the standard two-piece splash pans on other wheels.

Available with the round splash pan only.
Additional Features
1/3 hp continual duty motor found on our other wheels
Our standard SCR Controller with individual adjustments for exacting control
12" twist and lift cast aluminum wheel head with 10" bat pins
Round one piece splash pan
Full size splash pan NOT available
Plastic vacuum formed table top for complete water protection.
Powder coated metal base
Our heavy-duty cast aluminum foot pedal
The same bearings, pulleys, and 6 groove poly v belts as our other models
These wheels DO NOT have the reversing feature of our other wheels
The SSX upgrade is NOT available on this model
Five year warranty
10/22