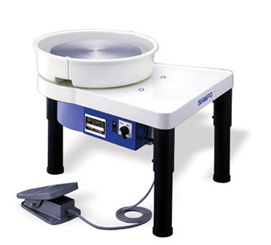 Shimpo VL Whisper
The VL Whisper offers the well known resilience and power of Shimpo wheels, yet also features a built-in table and splash pan in one convenient workstation.
Quiet and smooth, (it's a "quiet" that must be heard to be believed)
The VL Whisper provides a broad speed range of 0 to 250 rpm with remarkable foot pedal response.
Boasting a 10-to-1 ratio, the drive system allows for sufficient torque at both low and high speeds.
Reversibility is standard.
Sturdy enough for classroom settings while compact in design for studios.
The Velocity Series is perfect for students and professional potters alike.
Remote Foot Pedal
Adjustable legs Accommodate all throwing positions 11" to 21"
Two-Piece Splashpan with clips (SHSP2W) included
Speed Control with Remote Foot Pedal
Wheelhead: 14 inch light alloy casting, drilled for bat pins
Dimensions: 23 1/8 x 27 1/2 x 22 3/4"
Shipping weight: 135 lbs.
The VL Whisper stores easily

List Price $ 1750.00    Now $ 1487.50
1/23 15