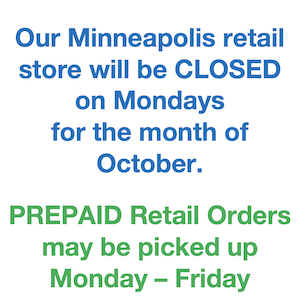 Retail Hours


Both Minneapolis & Denver locations will be CLOSED Monday & Tuesday, July 4th & 5th for 4th of July Holiday Minneapolis & Denver Retail Store & Warehouse are OPEN
Monday - Friday
9 am - 5:00 pm Minneapolis.
9 am - 5 pm Denver Curbside pickup is still an option too, whatever you prefer!
Order online (preferred method): Ignore the shipping estimate, note 'Curbside Pick-up' in the comments section.