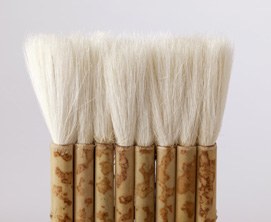 Hake Wool Multi-Head Brush


This Hake brush is made of soft sheep hair and is made thick to provide a firm touch. It produces a wide variety of background effects and can be snapped apart to make a smaller brush. The handle is made of bamboo. It is 2 1/2" wide.
Highly absorbent wool 8 stem brush
Can be divided into 8 smaller brushes or used whole.
A terrific value!
2.5" wide x 2" long,
Discount: 20% off 12 or more. 10% off 6 or more.
6/20