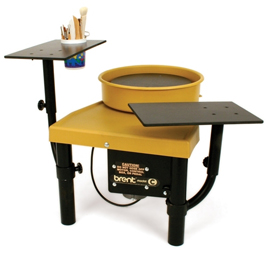 Brent Work Table Sets
Add versatility and convenience to your Brent® B, C, CXC or EX wheel. Store clay, modeling tools, brushes, and other supplies on the surface or in cup holders to keep them within arm's reach.
Brent® WorkTables are 1/3" thick and are made from the same rigid, easy-to-clean material as the AMACO® Plas-i-bat.

These two tables attach to the front wheel legs with the same supports and knobs as the Curved WorkStation except they can be independently adjusted.

One table is 16" x 10" and the other is 18" x 10" with a 4 1/4" cup holder.

Multiple positions for each table are possible by loosening one or more of the four knobs. Raise/lower the support or rotate it in or out to desired position then tighten to secure.

Available individually or as a set

16 " includes one set of supports & knobs

18" includes one set of supports & knobs and cup holder.
1/21