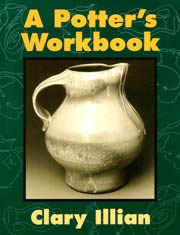 Potters Workbook
Clary Illian presents a textbook for the hand and the mind. 

Her information and inspiration explain the mechanics of throwing and finishing pots made on the wheel, and principles of truth and beauty arising from the traditional method.
Paperback - 112 pg.
Due to the specialty category of ceramic / pottery books, publishing runs are sometimes limited and book titles go in and out of print without notification.  We do our best to keep up with our many publishers and stock availability.
9/18