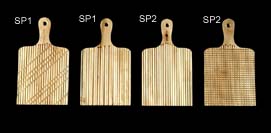 MKM Small Wood Paddles
These paddles are all double-sided with a different pattern on each side.
Made with a wood that is relatively light and not too thick.
Wide enough (4 inches) for rolling coils of clay on for handles, feet, and other attachments.
Paddles are soaked in a heated oil mixture to make them very durable, yet still release from the clay.
Using a pair of paddles eases the ability to roll coils.
7-7/8" x 4-1/2"
Available while current supply lasts.