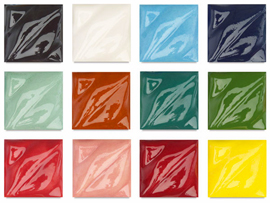 Amaco Liquid Decorating Underglaze Sets (LUG)
Cone 06-05
Two different sets of 12 colors allow you to try 24 colors economically.
Set 712 shown at left: Black, White, Light Blue, Dark Blue, Aqua, Light Brown, Blue Green, Dark Green, Rose, Peach, Maroon, Light Yellow.
Set 812 shown below: Warm Gray, Medium Blue, Turquoise, Mahogany Brown, Chartreuse, Warm Green, Pink, Suntan, Lilac, Purple, Bright Yellow, Orange.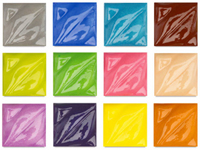 These Amaco Underglazes are all AP Non-Toxic.
List Price $ 95.40 - CCC Price $ 76.32
Amaco reserves the right to substitute a glaze or underglaze of similar color and equal or greater value when neccesary and without prior notice.
2/21 20